Here is a preview of our upcoming app- SpaceWiz along with MorphWiz and SampleWiz!
Comments Off

on SpaceWiz – New iPad App From Jordan Rudess

/
Auria is a 48 track digital audio workstation designed exclusively for the iPad. Built from the ground up to be used in professional studio and live tracking applications, Auria includes the necessary tools for recording, mixing, and editing any project. Auria introduces innovative features such as AAF import/export for moving sessions between popular DAWs (like Pro Tools and Nuendo), 64-bit double precision architecture, and multiple channels of recording using compatible USB audio interfaces (via the Camera Connection Kit).
Comments Off

on AURIA: 48-Track Recording System for iPad by WaveMachine Labs

/
Animoog
Animoog, powered by Moog's new Anisotropic Synth Engine (ASE), is the first professional polyphonic synthesizer designed for the iPad. ASE allows you to dynamically move through an X/Y space of unique timbres to create a constantly evolving and expressive soundscape.
http://moogmusic.com/products/apps/animoog-0
KORG iMS-20
iMS-20 is an analog synth studio; a complete recreation of the Korg MS-20 synth, an analog sequencer, a drum machine, and even Korg's Kaoss Pad technology.
Sunrizer for iPad
Sunrizer synth is a virtual analog synthesizer that takes the definition of iOs synthesizer to the next level.
Thanks to carefully designed architecture and heavy usage of coprocessor it blurs the boundaries between iOs and hardware synthesizers.
http://itunes.apple.com/pl/app/sunrizer-synth/id443663267
Rebirth on iPad
Legendary ReBirth faithfully emulates dance music's three backbone devices: The Roland TB-303 Bass synth and the Roland TR-808 and 909 drum machines. Combine these with FX units, fully featured pattern sequencers and a gorgeous-looking interface and you're ready to make killer tracks on your iPad. Share your music with friends on Facebook, Twitter and more using the built in sharing features.
http://www.propellerheads.se/products/rebirth/
Korg iElectribe-R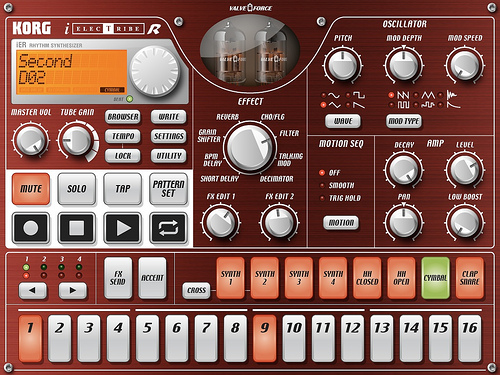 For over a decade, Korg's Electribe•R has been go-to gear for creative musicians from around the world and across multiple electronic and dance music genres. Now, you can take the power of the Electribe•R with you thanks to iElectribe, Korg's first dedicated app; bringing the fun of analog-synth style beat making to your iPad. Best of all, the iElectribe takes full advantage of iPad's 9.7 inch multi touch display to deliver a new style of musical instrument.
http://www.korg.com/ielectribe
Glitch Machine
Glitch Machine is a generative music synthesizer. Expressions are edited live to produce sound interactively.
The magic of Glitch Machine's synthesis is in the BYTE, which wraps a final output value to a number between 0 – 255. The repeating patterns (or chaos) of this 'wrapping' produces waveforms and beats.
http://itunes.apple.com/us/app/glitchmachine/id481359090
Filtatron
FILTATRON is much more than your average sound app. It's a phenomenal real-time audio effects suite and powerful studio tool for your iPhone or iPod Touch.
http://www.moogmusic.com/products/apps/filtatron/
Addictive Synth

Dynamic wavetable synthesizer
• Six dynamic wavetable oscillators per voice, up to 48 total.
• Continuous morphing between two oscillator sets.
• Realtime editing of up to 128 partials (overtones).
• Realtime editing of filter structure to create arbitrary body resonances.
• Extensive modulation possibilities using up to 4 LFOs and 4 Envelopes.
• Control matrix allows real time control of five parameters using the X/Y touch pad, the modulation wheel and the tilt sensors of the iPad.
• Monophonic or polyphonic with 8 voices.
• 128 factory presets, unlimited user presets can be shared.
• Up to three effects concurrently usable selected from: equalizer, phaser, flanger, chorus and stereo/cross delay.
http://itunes.apple.com/app/addictive-synth/id4470726538
Synth

Synth was used by Gorillaz in recording their new album — "The Fall." Info at thefall.gorillaz.com
Sylo synth
Another synth used by Gorillaz
http://www.wooji-juice.com/products/sylo-synth/
Noisemusic
The Noisemusick app is a collection of THREE controllable synthesizers that generate interesting chaotic sounds. Have fun creating sonic bedlam, exploring weird soundscapes, or use it to GREAT EFFECT in your live performances and recordings. It's squonky electric FUN for the whole family!
Comments Off

on Best 11 virtual music instruments for iPad

/